Process
BRAINSTORMING
Your group will have a variety of jobs to do that will lead up to the final assignment of presenting to the class what life would be like if the Dust Bowl happened today.
1. Brainstorm and make a list of the everyday hardships that the Joad family will face in The Grapes of Wrath.
2. Make a list of how people's daily tasks and chores changed during the Dust Bowl of the 1930's. Make this list based on information from the sites listed below:
Voices From the Dust Bowl website

The Migrant Experience website
YOU MUST COMPLETE THIS PORTION FIRST AND CHECK IT WITH ME BEFORE YOU ADVANCE TO THE NEXT PORTION!!!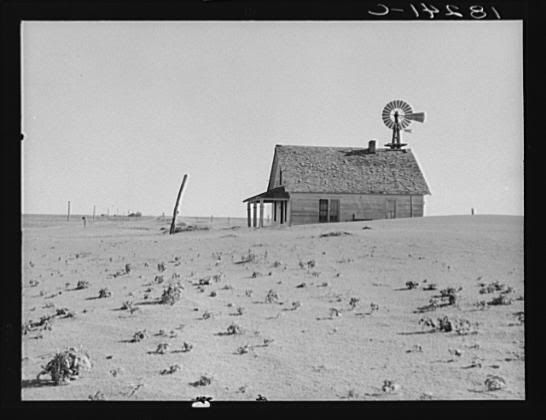 RESEARCH
3. Research the following sites on migration into the United States and hypothesize and write down how you think the government would react if the Dust Bowl happened today. This should be written in five paragraph essay form.
Farm Labor: Twenty-First Century Challenges website

Welfare Dustbowl website

Drought is Hell website

Subsidy Failure Challenges Traditional Notions of Farming website
FINAL STEPS:
Complete this section after I hace acknowledged you have completed the previous steps and this includes the essay!!
4. Imagine you are living through a modern day Dust Bowl. Write in journal entry form the hardships you would face in one week. You should have seven journal entries, one for every day of the week. Each entry should be two to three paragraphs long. You should base this off of the research you did for the tasks listed above. REQUIRED
5. Listen to and analyze the lyrics to Bruce Springsteen's song "The Ghost of Tom Joad". Write the lyrics to a song (any melody you like) in which you tell about another character from the The Grapes of Wrath living in modern day America. EXTRA CREDIT
Ghost of Tom Joad lyrics website
PRESENTATION: Your group will have a five to ten minute in class presentation on what life would be like for you and your family if there was a modern day Dust Bowl.